Helping companies worldwide reach the next level
Tech savvy managers around the world are using high-performance hardware, software and services from Ontario to help their companies breakthrough to the next level.
Why the world sources smart solutions and services from Ontario:
A global centre for ICT expertise
Ontario is home to North America's second largest concentration of innovative ICT companies.
Companies include made-in-Ontario global successes – Celestica, OpenText, Mitel, BlackBerry, QNX, Shopify, and Side Effects Software, as well as up-and-comers such as Securekey and Wattpad.
A launching pad for digital innovations
Ontario is where Geographical Information System (GIS) software, smart thermostats and IMAX film technology were first developed. Made-in-Ontario technologies can be found onboard 80 per cent of the commercial communications satellites ever launched and at the core of the world's most secure digital cryptography and e-security systems.
Customers in more than 140 countries use leading-edge technologies from Ontario in:
broadband network management
digital gaming
healthcare
industrial automation
smart grids
fintech
cloud services
big data analytics
social media
mobile apps
photonics
connected cars
intelligent transportation technologies.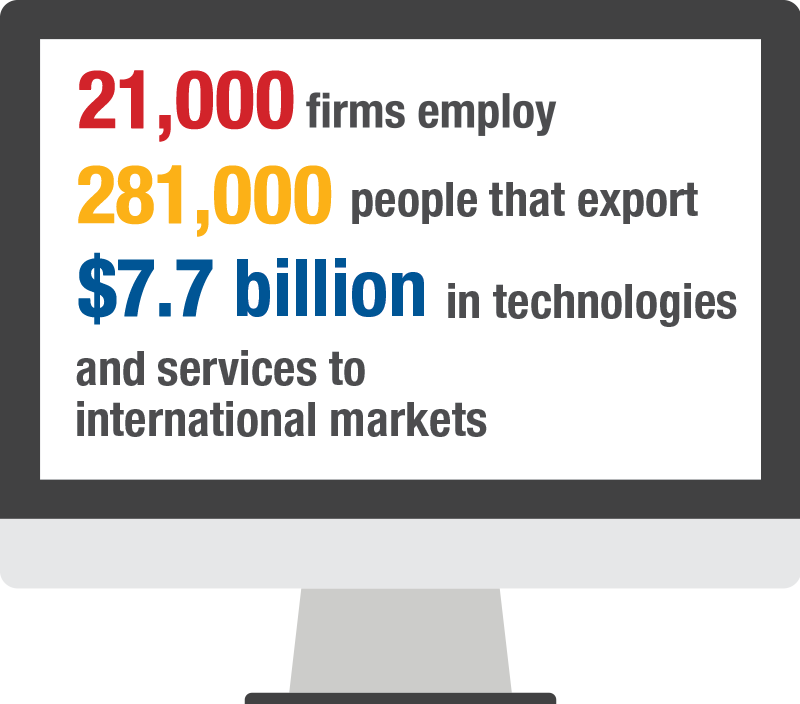 World class customer support in any language
Ontario is a diverse, multicultural society where more than 150 languages are spoken.
That rich diversity helps our companies understand the unique needs of different business cultures and deliver seamless customer support to customers and partners anywhere in the world.
High quality at competitively low costs
International buyers have discovered that Ontario ICT companies can provide high-value, highly advanced technologies and services at very competitive prices.
One reason is that companies in Canada have the lowest costs among G7 nations for software development, electronics assembly, R&D, telecommunications and manufacturing. Canada also has free trade agreements in place with more than 16 countries — which can significantly reduce tariffs and duties — and is constantly working to reach new agreements with more countries. For example, the Canada-EU Comprehensive Economic and Trade Agreement (CETA) eliminates tariffs on made-in-Ontario computers and electronics purchased by European buyers.
Lastly, the current exchange rate for Canadian dollar against many major currencies favours international buyers.